A Caldron of Creative Witchcrafts
Eva Furnari lives between two worlds. One is the same as ours, with supermarkets, bills to pay, and emails to answer. The other is an imaginary world, where charismatic, funny and slightly melancholic characters flourish. Personalities such as the poet rabbit Fuzz McFlops, the accidental inventor Lolo Barnabé, and Zuzu, the little witch who is always surprised with the strange powers of her magical wand.
The access to this world of creation is a mystery even to Eva. "I concentrate, imagine a place and start to see the characters turning up; it's not a rational process", she explains. For the readers, the way is simpler.
Her books are everywhere in bookstores, libraries and schools across Brazil. There are more than 60 titles, which together have already sold more than 3 million books not only in Brazil, but also in Mexico, Equator, Guatemala, Bolivia, Italy and the UK. Fuzz McFlops has been recently published in England by the prestigious publisher Pushkin Books. Eva's works have also received the main awards in their category, including seven Jabutis.
Eva Furnari was born in Rome, Italy, in 1948. She moved to São Paulo with her family when she was a little two year old. Since childhood she's enjoyed drawing and doodled the whole time. As a teenager, she took up drawing classes to improve her technique and later studied Architecture at the University of São Paulo. She concluded her graduation with a study about textless illustration books and, after that, she became an Arts teacher at the Lasar Segall Museum, in São Paulo.
But, in spite of all the affinity with the esthetical universe, the idea to work as an illustrator came later, in the early 1980s. Eva had left her job at the Museum and was searching for a way to make a life. She found the answer while looking through a book in a children's bookstore in São Paulo. "This is something I could do", she said to herself when she saw the drawings of a German publication.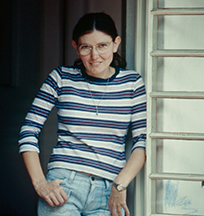 Initially, the idea was not to create her own stories, but to illustrate other authors'. Then, Ática Publishers ordered four entire books all at once. "The result was awful and I was very unsatisfied", Eva says. According to the author, her lines were rigid and her creativity was limited by the pressure of a premiere.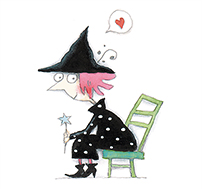 However, readers, critics and the publisher had a different opinion. Her works were well received and, little by little, she multiplied her titles and illustrations. Then, Folha de S. Paulo, one of the most renowned newspapers in São Paulo, started to publish a weekly comic strip with the adventures of the Bruxinha (Little Witch).
From drawing to writing
In 1993, ten years after her premiere, Eva's career had a turnaround. "I was concentrated, thinking of new adventures for the Bruxinha (Little Witch), when a whole gang of other characters turned up", she says. "At first, I rejected them because I was looking for something else, but they wouldn't go away. Then, I had to give in and ask what was it that they wanted."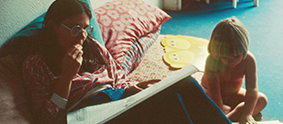 What they wanted was to take part in a bigger story, a story more complex than anything Eva had ever written. A story that demanded more than images, it wanted words. And, more than words, it wanted a text! However, it couldn't be the simple punctual production that had accompanied some previous titles, it ought to be a wide intricate plot, a big challenge for Eva.
Eva embraced it and sat down to study. She wrote drafts, and wrote, and rewrote with a dedication and effort that would constitute a steady method in her creative process. "Today, it is very clear to me that an artist is not a person with abilities, but someone who has an intense drive to create. Van Gogh is a perfect example", she says. "And, since I was a child, I have felt that I had things to create. I have loads of energy for that. For creation there's no laziness, for other things yes".
For three months, Eva was exclusively dedicated to the project, which included financial help from her sister for paying bills duly, without the need to take up other paying jobs that would certainly distract her. The enterprise resulted in the book A bruxa Zelda e os 80 docinhos (The witch Zelda and the 80 sweets) and in a style that became ever present in the writer's work: a combination of drawing and text that intertwine and complement one another with unique wit.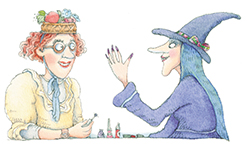 All hemmed by a discreet irony, which often times questions some of society's established values. Artificial conventions that in Eva's eyes, and certainly her little readers', prove to be strange and preposterous.
Through the years, Eva's lines also got rid of conventions, molds and braces, in a continuous development. The inspiration for this process came a great deal from the very readers. "Children copy the drawings in my books, but their copy has the freedom of the unknowledgeable… These drawings are incredible. They have a genuine sense of humor, a kind that is not only in the situation, but in the line, in the use of material, it's an esthetical humor".
Eva didn't miss this opportunity out and followed the children's example. Then, drawings more at ease began to show, as well as characters who flirt with the absurd and the surreal, usually linked to specific situations and often created at a glance, without sketches. "At times, I make a point in not thinking. If I think too much the emotion ceases."
According to Eva, this impulsive technique works better for shorter stories and word games such as Listas fabulosas (Fabulous lists), Você troca? (Would you swap?) and Zig zag. However, when the game is to create longer stories, the process is more complex and involves drafts and more drafts again. It demands several hours of creative meditation in the author's particular world, an activity that not only is sheer pleasure for her, but one of the greatest meanings of existence.
"A big part of my life is dedicated to that. I'm always thinking about doing things more efficiently to have more time to create. I'm more and more oriented towards creation time because the outside world, with all its agenda, doesn't favor the internalization necessary to create", she explains.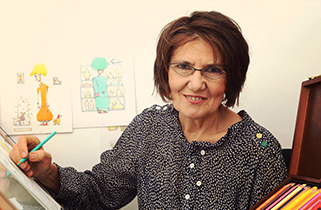 And there are people who don't understand. "How come you work on weekends, on holidays, and have no time for fun?", they ask. They don't understand that for Eva Furnari nothing is more fun than wander across the universe of the Gorgonzola family, of whitch Zelda, of Fuzz McFlops, and of the many others who shall come along…
TOMÁS CHIAVERINI
is a writer and a journalist. He talked to Eva in 2014.
MINI LITTLE BIOGRAPHY
(that ended up kind of long…)
Eva Furnari was born in Rome, Italy in 1948. She came to Brazil when she was two years old and has lived in São Paulo ever since.
In 1976, she graduated in Architecture and Urbanism from the University of São Paulo. She was an Arts teacher at the Lasar Segall Museum from 1974 to 79. In the 1980s, she collaborated as an illustrator with several magazine publications and received the Abril Illustration Award in 1987. For four years, she published the Bruxinha's (Little Witch's) stories in the children's supplement of Folha de São Paulo newspaper. She started her career as a writer and illustrator in 1980 and has already published more than 60 titles.
In the end of 2014, Felpo Filva (Fuzz McFlops), which has sold more than 250 thousand copies in Brazil, was published in the UK by the renowned Pushkin Books. Eva's books have been translated in Mexico, Equator, Guatemala, Bolivia and Italy. She participated in the Bratislava International Illustrators Fair in 1995 and, on many occasions, in Brazilian illustrators exhibitions promoted by National Foundation of Books for Young Readers (FNLIJ) at the Children's Books Fair in Bologna. She was nominated in the IBBY Honour List in 1996 — International Board on Book for Young People, a UNESCO organization committed to bringing books and children together – with O feitiço do sapo (The spell of the frog).
Many of Eva's books have become theater plays: Lolo Barnabé, Pandolfo Bereba, Abaixo das canelas (Below the shins), Cocô de passarinho (Bird poo), A bruxa Zelda e os 80 docinhos (The witch Zelda and the 80 sweets), A Bruxinha atrapalhada (The clumsy Little Witch), Cacoete (Quirk) and Truks, having the latter received the Mambembe Award in 1994. Other titles, such as Trudi e Kiki and Godofredo have inspired animation films. In 2014, SESC São Paulo (a São Paulo state organization of centers for culture and sports) organized a great interactive exhibition entitled Otrapalhação, all based on Eva's work. The opening was in the city of Ribeirão Preto and then it visited cities in the countryside, such as Catanduva, Araraquara, Taubaté and Bauru, with a total of 70.000 visitors.
Throughout her career, Eva Furnari has received many awards. Among them are seven Jabuti Awards by Brazilian Book Chamber (CBL): for best book with Fuzz McFlops and for best illustration with Truks, A Bruxa Zelda e os 80 Docinhos (The witch Zelda and the 80 sweets), Anjinho (Little Angel), O Circo da Lua (Moon Circus), Cacoete (Quirk) and Fuzz McFlops. She was nine times awarded by National Foundation of Books for Young Readers (FNLIJ) and she has also received the Paulista Association of Art Critics (APCA) Award for her lifework.
Since 2012 Eva has published exclusively with Editora Moderna. This partnership with the publishers resulted in the Eva Furnari Library, a collection with seven imprints that cover about 50 titles from new works, reformulated and reedited titles. For more information access www.bibliotecaevafurnari.com.br.
Topo